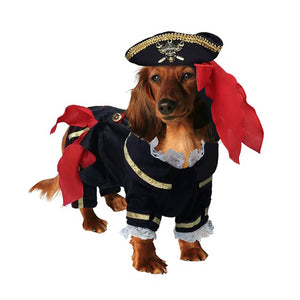 This Deluxe Buccaneer Pirate Costume is the most elegant pirate costume. It features Black velveteen jacket and pants. The folded cuffs, collar and pant legs are trimmed with rich gold ribbon. White lace also adorns the cuffs at the bottom of the fold, and collar. Front is decorated with heavy embossed Gold pirate buttons and red satin ribbon with an attached red waist sash. Included to complete this deluxe look with our Black pirate Hat with gold trim and a skull & crossbones sign of the pirate design on the front. This special hat has on the side an attached red bandana, wraps, and head-ties, all of which featuring classic pirate style. Adjustable chin strap. Hand washable, comfortable and easy to wear with front Velcro closure
Sizing Information:
Size 1:  Chest 10.5"- 12"  Neck 6.5"- 7.5"  Back 8"
Size 2:  Chest 12"- 14"  Neck 7.5"- 8.75"  Back 9.25"
Size 3:  Chest 14"- 16"  Neck 8.75"- 10.5"  Back 10.75"
Size 4:  Chest 16"- 18.5"  Neck 10.5"- 12"  Back 12.5"
Size 5:  Chest 18.5"- 20.5"  Neck 12"- 13.5"  Back 14"

Note: Please allow 2-5 business days in USA and 3 weeks International for delivery. However, you may experience additional delays due to COVID-19.